Now high technology works to serve your passions! Allow yourself to relax completely finally. Let your hands rest.
Quickshot Launch Riley Reid will do all the hard work for you! Automatic Launch is a very convenient development for using sex stroker, including Fleshlight. The Fleshlight brand produces many sleeves in a wide variety of shapes, sizes, and designs. Among Fleshlight sex toys, you can find realistic and futuristic penis devices.
Automatic Launch is easy to operate thanks to the convenient buttons on the device handles
Sex device has an ergonomic shape, so it is convenient to use for guys of any complexion
The small size of the Fleshlight Quickshot makes it easy to hide sex toys in the closet or take it on a business trip
Automatic Launch Riley Reid is an interactive masturbator that synchronizes its movements with the actions on the screen of your smartphone. The sex toy has been designed to use the Fleshlight miniature Quickshot sleeves.
✅Pros

Sex device Fleshlight is capable of performing 250 translations per minute without slowing down. Admit, your hand is not always able to set and maintain such a pace even at maximum speed.
The transparent material Fleshlight sex toy was created specifically for fans to watch the game. An additional transparent cover also creates the illusion of the absence of a sleeve. This exciting feature is very popular with users during games with a partner.

The internal design of the sleeve is designed to recreate a realistic feeling in the process of entering and passing through the channel.
Two holes in the Fleshlight make it easy to wash and dry quickly.
The manufacturer is continually updating Automatic Launch Fleshlight, so users can download all updates for free or set them to download automatically.

⛔Cons

High tech sex toy Fleshlight always has a higher than average price.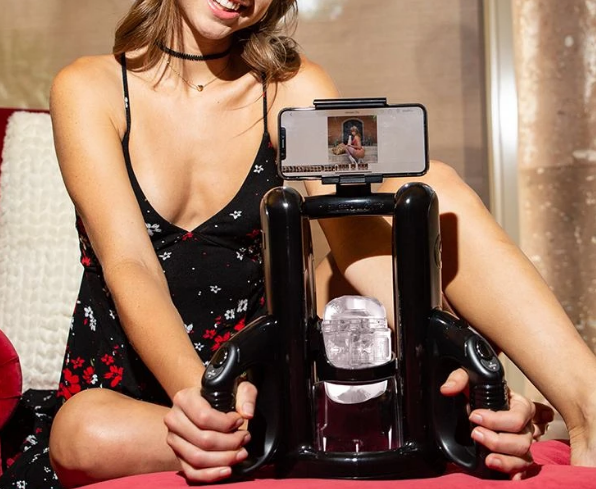 What is included in the package?
Each client will receive in a set:
The Fleshlube Water 8oz brand lubricant is ideal for Fleshlight sleeves, as it was created specifically for them.
Stroker Fleshlight in transparent material with a patented texture and two holes allows you to observe the process.
A transparent penis device case allows you to use the Fleshlight sleeve and store it hygienically more conveniently.
The case has caps at each end to keep your favorite Fleshlight even more discrete.
The masturbator has two different holes so you can choose the type of sensation. You will never get bored with the mini versions of pussy and butt.
Among the additional accessories
The warmer for sleeves for 100% creates the effect of penetration into a real partner. When heated to 36 degrees by touch, the patented Fleshlight material cannot be distinguished from human skin, and it is so soft and smooth.
Fleshlight's Quick Connect gadget lets you connect two small sleeves into one sleeve. Thus, you will get more depth and pleasant sensations.
The shower mount allows you to play in the bathtub without the help of your hands.
Detailed Description of Fleshlight Automatic Launch
Penis device created for solo and affiliate games to free your hands for more enjoyable activities.
You do not need to think about buying spare batteries constantly.
The automatic penis device is charged from the mains and works great for several hours. One charge is enough for several sessions!
The Fleshlight Transparent Mini Hub with two holes can be used with the Automatic Launch or separately for hand games. Fans of oral sex appreciated this mini version of Fleshlight as extra help.
Use all the optional accessories to bring your game to the most comfortable level.
The Fleshlight brand developed the heating or shower mount options with customer care.
The Fleshlight sleeve material called Superskin is the pride of the brand. This material allows you to get a super realistic feeling. It is also hypoallergenic and wears resistant. You can wash your sex toy with plain water with soap or Fleshlight brand cleaner. In both cases, the penis gadget will serve you for many years.
How to control Automatic Launch Fleshlight?
To effectively manage an interactive sex toy, you do not need to be a programmer or mechanic.
An ordinary user just needs to read the instructions and try once. You may need several sessions to find your favorite Automatic Launch mode.
Or maybe you will like a few settings or all of them! Most customers say that they change the Fleshlight Automatic Launch settings from time to time, depending on their mood.
Before starting the game, lubricate your Fleshlight with a water-based lubricant.
Put the sleeve on the interactive toy.
Install Automatic Launch in a way that makes you comfortable sitting or lying down and pressing buttons.
Fix your smartphone in a particular Automatic Launch block to watch your favorite videos or use the video call function of your partner.
The touch system of interactive launch buttons allows you to adjust settings and change modes intuitively. The user can control the speed, penetration depth, and intensity of vibrations.
Four stroke lengths and smooth speed adjustment allow you to make every sex game with Fleshlight, unlike the previous one.
You can also move the exposure concentration zone to get maximum stimulation in your most sensitive area. Automatic Launch allows you to choose one of the three areas of the base, trunk, or head of the member.
Before the first use, charge your Automatic Fleshlight to 100% so as not to be distracted by additional recharging during the game.
General conclusion
Now you know everything you need to use interactive Fleshlight comfortably.
The design was developed in such a way that you intuitively find the desired settings.
It is impossible to get confused! Wash and dry your Fleshlight sleeves thoroughly so that they remain as soft and pleasant to the touch for a long time.
Also, do not forget to use only water-based lubricants. Fleshlight sleeves are optional. But with this option, you get a smoother glide. Also, your Automatic Fleshlight will be able to give out speed of 250 beats per minute in the presence of a lubricant (since all tests are conducted with branded lubes).
User review
I spent a long time looking at many electronic sex gadgets. I already had one small toy of this format, but it does not give much scope for imagination. The name Fleshlight Riley Reid is a whole machine for pleasure.
I like that the movements can be controlled independently or adjusted to the actions taking place on the smartphone screen.
Although I like the most intensive mode, when I want to play, I use mostly slower options. Maybe someone can withstand the speed of 250 beats per minute longer, but I have never survived more than two minutes.
The feeling is very cool! I want to note that the car does not work loudly. In the next room, the printer seems to be working. I do not really like that charging takes a long time. But this is not a significant minus since one charge is enough for me ten times.
FAQ
How long does Automatic Fleshlight charge?
Standard charge up to 100% takes 2 hours.
The first charge after purchase may take a little longer. Also, you can periodically connect the gadget to the mains without waiting for a complete discharge.
Can I use Fleshlight Launch in the shower?
Yes, the design has a waterproof design. This function is successfully implemented when you combine a toy with a shower holder. Also, the waterproof case makes it easy to keep the device clean.
Can I use other Fleshlight sleeves instead of Quickshot?
You can use a particular brand gadget to combine two small sleeves into one long one to enhance your sensations.
How to wash your Fleshlight sleeves?
Hygiene is essential. To thoroughly clean the sleeve, you can use soap and water or a brand cleaner.
Sleeves that have only one inlet must be filled with water and rinsed thoroughly.
If you are using a ribbed texture, further clean the channel with your fingers. Double-ended mini bushings are more comfortable to wash. But also do not forget to extract the remnants of the lubricant from the tubercles and furrows inside the canal. Hoses must be thoroughly washed and dried after each use.
With Launch Riley Reid, can I use hubs of other brands?
The automated device is designed so that it can be used to secure the brand case for Fleshlight gadgets. Products of other brands are not suitable in diameter and design for this machine.
Do I have to use a brand case with a Fleshlight sleeve?
If you plan to use the sleeve manually, then the presence of the housing is optional.
However, this option allows better control of the process, and it is more convenient to hold the sleeve since it is made of soft and pliable material.
Also, if you are not using a branded case, you need to think about hygienic storage of the sleeve additionally. If you plan to use the interactive Launch, then to secure the sleeve inside the machine, you will definitely need a branded cover.