Now high technology works to serve your passions! Allow yourself to relax completely finally. Let your hands rest.
Quickshot Launch Riley Reid will do all the hard work for you! Automatic Launch is a very convenient development for using sex stroker, including Fleshlight. The Fleshlight brand produces many sleeves in a wide variety of shapes, sizes, and designs. Among Fleshlight sex toys, you can find realistic and futuristic penis devices.
Automatic Launch is easy to operate thanks to the convenient buttons on the device handles
Sex device has an ergonomic shape, so it is convenient to use for guys of any complexion
The small size of the Fleshlight Quickshot makes it easy to hide sex toys in the closet or take it on a business trip
Automatic Launch Riley Reid is an interactive masturbator that synchronizes its movements with the actions on the screen of your smartphone. The sex toy has been designed to use the Fleshlight miniature Quickshot sleeves.
✅Pros

Sex device Fleshlight is capable of performing 250 translations per minute without slowing down. Admit, your hand is not always able to set and maintain such a pace even at maximum speed.
The transparent material Fleshlight sex toy was created specifically for fans to watch the game. An additional transparent cover also creates the illusion of the absence of a sleeve. This exciting feature is very popular with users during games with a partner.

The internal design of the sleeve is designed to recreate a realistic feeling in the process of entering and passing through the channel.
Two holes in the Fleshlight make it easy to wash and dry quickly.
The manufacturer is continually updating Automatic Launch Fleshlight, so users can download all updates for free or set them to download automatically.

⛔Cons

High tech sex toy Fleshlight always has a higher than average price.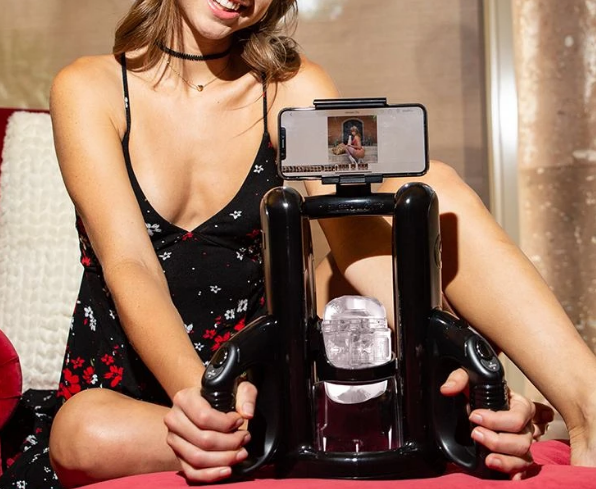 What is included in the package?
Each client will receive in a set:
The Fleshlube Water 8oz brand lubricant is ideal for Fleshlight sleeves, as it was created specifically for them.
Stroker Fleshlight in transparent material with a patented texture and two holes allows you to observe the process.
A transparent penis device case allows you to use the Fleshlight sleeve and store it hygienically more conveniently.
The case has caps at each end to keep your favorite Fleshlight even more discrete.
The masturbator has two different holes so you can choose the type of sensation. You will never get bored with the mini versions of pussy and butt.
Among the additional accessories
The warmer for sleeves for 100% creates the effect of penetration into a real partner. When heated to 36 degrees by touch, the patented Fleshlight material cannot be distinguished from human skin, and it is so soft and smooth.
Fleshlight's Quick Connect gadget lets you connect two small sleeves into one sleeve. Thus, you will get more depth and pleasant sensations.
The shower mount allows you to play in the bathtub without the help of your hands.
Detailed Description of Fleshlight Automatic Launch
Penis device created for solo and affiliate games to free your hands for more enjoyable activities.
You do not need to think about buying spare batteries constantly.
The automatic penis device is charged from the mains and works great for several hours. One charge is enough for several sessions!
The Fleshlight Transparent Mini Hub with two holes can be used with the Automatic Launch or separately for hand games. Fans of oral sex appreciated this mini version of Fleshlight as extra help.
Use all the optional accessories to bring your game to the most comfortable level.
The Fleshlight brand developed the heating or shower mount options with customer care.
The Fleshlight sleeve material called Superskin is the pride of the brand. This material allows you to get a super realistic feeling. It is also hypoallergenic and wears resistant. You can wash your sex toy with plain water with soap or Fleshlight brand cleaner. In both cases, the penis gadget will serve you for many years.
How to control Automatic Launch Fleshlight?
To effectively manage an interactive sex toy, you do not need to be a programmer or mechanic.
An ordinary user just needs to read the instructions and try once. You may need several sessions to find your favorite Automatic Launch mode.
Or maybe you will like a few settings or all of them! Most customers say that they change the Fleshlight Automatic Launch settings from time to time, depending on their mood.
Before starting the game, lubricate your Fleshlight with a water-based lubricant.
Put the sleeve on the interactive toy.
Install Automatic Launch in a way that makes you comfortable sitting or lying down and pressing buttons.
Fix your smartphone in a particular Automatic Launch block to watch your favorite videos or use the video call function of your partner.
The touch system of interactive launch buttons allows you to adjust settings and change modes intuitively. The user can control the speed, penetration depth, and intensity of vibrations.
Four stroke lengths and smooth speed adjustment allow you to make every sex game with Fleshlight, unlike the previous one.
You can also move the exposure concentration zone to get maximum stimulation in your most sensitive area. Automatic Launch allows you to choose one of the three areas of the base, trunk, or head of the member.
Before the first use, charge your Automatic Fleshlight to 100% so as not to be distracted by additional recharging during the game.
General conclusion
Now you know everything you need to use interactive Fleshlight comfortably.
The design was developed in such a way that you intuitively find the desired settings.
It is impossible to get confused! Wash and dry your Fleshlight sleeves thoroughly so that they remain as soft and pleasant to the touch for a long time.
Also, do not forget to use only water-based lubricants. Fleshlight sleeves are optional. But with this option, you get a smoother glide. Also, your Automatic Fleshlight will be able to give out speed of 250 beats per minute in the presence of a lubricant (since all tests are conducted with branded lubes).
User review
I spent a long time looking at many electronic sex gadgets. I already had one small toy of this format, but it does not give much scope for imagination. The name Fleshlight Riley Reid is a whole machine for pleasure.
I like that the movements can be controlled independently or adjusted to the actions taking place on the smartphone screen.
Although I like the most intensive mode, when I want to play, I use mostly slower options. Maybe someone can withstand the speed of 250 beats per minute longer, but I have never survived more than two minutes.
The feeling is very cool! I want to note that the car does not work loudly. In the next room, the printer seems to be working. I do not really like that charging takes a long time. But this is not a significant minus since one charge is enough for me ten times.
FAQ
How long does Automatic Fleshlight charge?
Standard charge up to 100% takes 2 hours.
The first charge after purchase may take a little longer. Also, you can periodically connect the gadget to the mains without waiting for a complete discharge.
Can I use Fleshlight Launch in the shower?
Yes, the design has a waterproof design. This function is successfully implemented when you combine a toy with a shower holder. Also, the waterproof case makes it easy to keep the device clean.
Can I use other Fleshlight sleeves instead of Quickshot?
You can use a particular brand gadget to combine two small sleeves into one long one to enhance your sensations.
How to wash your Fleshlight sleeves?
Hygiene is essential. To thoroughly clean the sleeve, you can use soap and water or a brand cleaner.
Sleeves that have only one inlet must be filled with water and rinsed thoroughly.
If you are using a ribbed texture, further clean the channel with your fingers. Double-ended mini bushings are more comfortable to wash. But also do not forget to extract the remnants of the lubricant from the tubercles and furrows inside the canal. Hoses must be thoroughly washed and dried after each use.
With Launch Riley Reid, can I use hubs of other brands?
The automated device is designed so that it can be used to secure the brand case for Fleshlight gadgets. Products of other brands are not suitable in diameter and design for this machine.
Do I have to use a brand case with a Fleshlight sleeve?
If you plan to use the sleeve manually, then the presence of the housing is optional.
However, this option allows better control of the process, and it is more convenient to hold the sleeve since it is made of soft and pliable material.
Also, if you are not using a branded case, you need to think about hygienic storage of the sleeve additionally. If you plan to use the interactive Launch, then to secure the sleeve inside the machine, you will definitely need a branded cover.
What is an Automatic Fleshlight?
An Automatic Fleshlight is a revolutionary male sex toy that takes masturbation to a whole new level. It is designed to provide powerful stimulation and deep satisfaction with its built-in motorized stroking action, ergonomic shape and adjustable speed settings. The internal chamber is filled with several rows of textured bumps and ridges, which can be controlled electronically to vary the intensity of pleasure. The device also features add-on accessories such as warming or cooling attachments and specially designed textures, allowing users to explore new heights of pleasure safely and comfortably.
What are the benefits of using an Automatic Fleshlight?
The benefits of using an Automatic Fleshlight include:
1) Consistent stimulation with adjustable intensity settings to tailor the experience to individual needs.
2) Highly portable size to fit into a pocket or purse for on-the-go pleasure.
3) No need for lubrication or batteries, just access to power via USB.
4) Improved sexual performance and stamina as it strengthens key muscles and increases blood flow throughout the body.
5) Reduced recovery time after ejaculation for longer sessions with a partner.
6) Ease of use – just push a button for an amazing sensation.
7) Variety of sizes, textures, and colors to choose from.
8) Discreetness – looks like a small flashlight and is virtually silent.
What are the most popular models of Automatic Fleshlights for 2023?
2023 is an exciting year for male sex toys, and one of the most popular ones are automatic Fleshlights. With so many models available on the market, it can be difficult to decide which one is the best and most suitable for you. To make it easier, we have compiled a list of the top automatic Fleshlights for 2023 and evaluated them based on factors such as design, stroking speeds, noise level, insertable length, working time, and vibration patterns.
Our Editor's Choice is the Kiiroo Keon & Feel Stroker. This automatic Fleshlight offers an impressive speed of up to 230 strokes per minute, making it one of the quickest options available for an intense experience. Additionally, it comes with a motor that produces low noise levels, allowing you to enjoy your session with minimal disturbance.
The Premium Pick for 2023 is the ZOLO Roboblow. This automatic Fleshlight is made with durable materials and offers 10 motion patterns to choose from. It also comes with two interchangeable sleeves, giving you the opportunity to customize your experience.
For those looking to improve their stamina, the Fleshlight Universal Launch is the perfect choice. It comes complete with a stamina-training sleeve and lube and has a phone holder built-in, allowing you to enjoy your favorite media while you train. This automatic Fleshlight offers a maximum speed of 250 strokes per minute, giving you a challenging experience.
The Best Value for 2023 is the Lelo F1S V2. This automatic Fleshlight has an eye-catching design and is pairable with virtual reality and augmented reality for a unique experience. It can run for up to 2 hours and won't break the bank.
If you're looking for an automatic Fleshlight that mimics the feeling of oral sex, then the Autoblow Ai is your best bet. This Fleshlight offers 10 motion patterns to choose from and comes with an LED light that allows you to follow the program chosen.
For those looking for a travel-friendly option, the Svakom ALEX NEO is a great choice. This compact automatic Fleshlight comes in a secure protection case and can be controlled via an app that offers various scenarios and music synchronizations.
If you're looking for an automatic Fleshlight that offers the longest working time, then the Arcwave Ion Male Masturbator is your best option. This Fleshlight can work for almost an hour on the strongest mode and offers 8 motion patterns to choose from.
If you're looking for a Fleshlight that offers a virtual experience, then the Lovense Max 2 is the way to go. This automatic Fleshlight offers amazing VR opportunities through a convenient app and can work for more than two hours on one battery charge.
When it comes to picking the best automatic Fleshlight for 2023, there are many options to choose from. We have provided a detailed comparison and evaluation of the top models available, so that you can make the right choice for your needs.
What kind of sleeve design does an Automatic Fleshlight have?
An Automatic Fleshlight typically has a sleeve design that is lined with various textures and shapes to provide different types of stimulation and pleasure. The materials used in the sleeve are body-safe, non-toxic materials that have been rigorously tested for safety and suitability for use near sensitive skin zones. Some models even feature removable sleeves for easy cleaning, as well as varying speeds and intensities for customizable pleasure.
What type of lube should I use with an Automatic Fleshlight?
When using an Automatic Fleshlight, you want to make sure you're using the right type of lube for the best experience. Whether your toy is made from silicone or TPE, water-based lube is the best option. Oil-based and silicone-based lubes should be avoided as they will shorten the sleeve's life. Water-based lube is the best choice for a motorized Fleshlight, as it is body-safe, leaves no sticky residue, and is easy to clean up. Additionally, using lubricant will help ensure a smoother ride and make the sensations even more intense, so don't forget to lube up before you enjoy your automatic Fleshlight!
What type of stimulation and sensation does an Automatic Fleshlight provide?
An Automatic Fleshlight provides a powerful and realistic stimulation and sensation experience that is unrivaled by traditional manual masturbation devices. It features an adjustable speed dial and pressure setting that allows users to customize their pleasure levels for a truly unique experience. This feature is not available with manual strokers. Additionally, the Automatic Fleshlight is equipped with an optional vibration mode that can add even more pleasure and intensity to the experience. The inner texture of the Automatic Fleshlight also varies depending on the model you choose and can range from smoother sleeves to more ribbed or bumpy textures. This gives users the freedom to choose the type of stimulation or sensation they desire. Finally, the Automatic Fleshlight is waterproof and rechargeable, making it the perfect companion for solo or partnered sexual adventures.
Does an Automatic Fleshlight have any app control features?
Yes, an Automatic Fleshlight has app control features. With its advanced technology and wireless connectivity, it allows users to control their pleasure levels with its adjustable speed settings and vibration mode. Additionally, users can also control the intensity of the stroking motion, as well as the pressure setting for deeper penetration, all from their smartphone. The Automatic Fleshlight also comes with an intuitive control interface and mobile app, making it easy to customize your experience and maximize your pleasure.
How do Automatic Fleshlights compare to manual masturbators?
Automatic Fleshlights and manual masturbators are both great options for solo playtime. Both offer a realistic and stimulating experience that can help bring pleasure and satisfaction. However, there are a few key differences between the two.
Automatic Fleshlights are powered by motors and provide a hands-free experience. They also offer wireless connectivity and interactivity with compatible toys, as well as the option to control them remotely with a smartphone. Manual masturbators, on the other hand, require manual movement to create the desired stimulation.
When it comes to orifice, both manual and automatic Fleshlights offer a variety of options, including mouth, vagina, anus, and neutral options, although the available options may vary depending on the model. In terms of inner texture, manual Fleshlights offer a wider variety of internal textures, with smoother sleeves providing gentler stimulation and more ribbed or bumpy textures helping to expedite the impending orgasm. Automatic Fleshlights, meanwhile, provide stimulation through vibrations, thrusts, or pulses.
Finally, manual Fleshlights, especially the official Fleshlight brand models, tend to be larger, whereas automatic Fleshlights tend to be much larger and heavier due to the batteries and internal motors needed to provide stimulation. Manual Fleshlights can also be quite loud, whereas automatic Fleshlights are even louder.
Is an Automatic Fleshlight discreet and easy to store?
Yes, an Automatic Fleshlight is discreet and easy to store. This is because its design is ergonomic and compact, making it easy to grip and transport. Additionally, most automatic Fleshlight models are designed to operate at a low noise level, which makes them ideal for discreet pleasure. Furthermore, they come with optional accessories such as heating or shower mounts and a sleeve material called Superskin, which is hypoallergenic and wear-resistant, making them even more convenient to use and store. Finally, they are powered by a rechargeable battery that can last several hours, so you don't have to worry about buying spare batteries all the time. All in all, an Automatic Fleshlight is both discreet and easy to store, making it a great option for those who want to keep their sex life private.
How much does an Automatic Fleshlight typically cost?
An Automatic Fleshlight typically costs anywhere from $39 to $199.95, depending on the model and features. Those with a tight budget can opt for value options like the LELO F1S™ V2 Pleasure Console for $40, while those with a bigger budget can splurge on premium products such as the ZOLO Roboblow for $199.95. Comparing prices between different models is essential in order to get the best value for your money. Additionally, it's important to consider the size, shape and features of the Fleshlight in order to find the one that best fits your needs and desires.