There's nothing wrong with a male desire to boost up the orgasms and add something artificially satisfying into the regular jack-off routine. A fake pussy can be an excellent semi-realistic option for anyone who:
Has no intention to invest in a woman's pussy and start a relationship;
Has an incredible libido that is hard to control;
Wants to boost up the orgasmic vibes;
Needs to have some practice because of health and surgery;
Seeks for improvement of sexual performance between the bedsheets with a woman.
An artificial vagina or fake pussy can deliver you a bunch of close-to-realistic sensations. It's high time to have a look at the best options available in the market.
The inner sleeve is removable – there's nothing hard in cleaning after every use
The sleeve can sustain the temperature of your body
The casing and the overall design of the tool are very convenient
1. Autoblow A.I.
General Description
It's one of the best pieces of art ever created by horny men for horny men. Its design is far from realism, but the sensations it delivers are very close to the regular blowjob.
This automatic machine will stroke the shaft of your cock to the full possible extent.
There's a wide range of blowjob options for the most satisfying experience:
Full stroke;
Intense or fast edging;
Teasing;
Top or bottom stroke;
Top and bottom stroke combined;
Two types of masterstroke unique options;
Whole A.I. automated blowjob experience.
This is not a fake pussy, because it is destined to imitate a regular blowjob. You won't need batteries, and the controls are positioned so that you could use the device intuitively.
Specs
Works with the use of the regular electrical outlet – there's no possibility to charge or use batteries;
The interchangeable inner pussy sleeves are made of high-grade silicone;
The maintenance is effortless – wash it with warm soapy water and don't forget about some talc or special renewal powder for sex toys to keep the surface away from deterioration;
10-speed options are available for ten types of a blowjob;
The motor itself is destined to last a lifetime – it's full metal;
I. was created with the use of artificial intelligence, which promotes incredible and deeply satisfying automatic blowjob experience;
This exact model is quieter than its predecessors and several times more powerful.
Customers' Opinion
PROs

CONs

It feels realistic and performs its function correctly.
Effortless maintenance is among the most popular advantages.
This is a renewed model that is entirely functional and satisfying for most of the customers.
The cord, instead of the regular batteries, has a significant advantage – you don't have to switch to hand job when the device recharges.

You'll have to get used to it because this toy is quite massive. Nevertheless, you can always fix it between the pillows of your sofa or on the table.
The overall design seems to be creepy for some of the users.
2. Riley Reid Quickshot Launch Package
General Description
Do you know anything about Riley Reid? It's one of the most renowned porn actresses originating from the United States.
She's been through the adult industry for more than ten years and made numerous men crave for her skills, as well as for her vagina.
FLESHLIGHT has something to make you feel surprised and at least partially satisfied.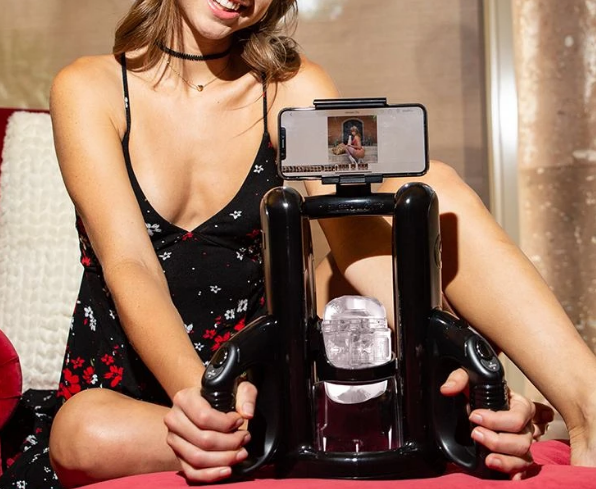 Riley Reid Quickshot is one of the most-wanted premium FLESHLIGHT masturbators imitating Riley's butt or vagina (depending on the customer's choice of the sleeve). If you're a newcomer to the world of FLESHLIGHT products, you should know that their toys look like regular flashlights with sleeves imitating realistic and non-realistic pussies, anal holes, and mouths.
The inner insertable and interchangeable sleeves are made of the unique patented material destined to last a lifetime if you don't forget about regular maintenance.
Both couples and singles all over the world trust the manufacturer.
Specs
Original water-based lubricant from the manufacturer is included in the package;
You'll also get a compact case with the BUTT and LADY orifices;
The sleeves are made with the use of the patented SuperSkin material developed by FLESHLIGHT pros;
The case has a cap for convenient and discreet storage of the fake pussy;
The pussy orifice is molded from the porn actress, and the inner texture will make you cum in seconds of it's your first FLESHLIGHT product experience;
Popular as a sex stamina training tool because of its intensity.
Invest in a shower mount and a sleeve warmer to please yourself in the most realistic ways possible and wherever you might want with this fake pussy.
Customers' Opinion
PROs

CONs

"Better this than a wife with kids" – one of the most common comments in the customer review section on Amazon;
According to almost every review, the material of the sleeve feels realistic;
FLESHLIGHT Launch is more than a regular masturbation machine – you can synchronize it with individual interactive porn videos suggested by the manufacturer to feel the real deal;
Launch will help you enjoy interactive virtual reality without investing too much effort into building a relationship you don't need.

Unfortunately, the inner texture with its wild patterns is entirely unrealistic – it will be impressive, but too tight if you opt for long masturbating sessions;
The maintenance is not as effortless as you might think – you'll have to spend about 5-10 minutes to make it clean.
The sleeve has to be warmed up in the water or by means of the special device – otherwise, it will be cold to the touch.
3. Lovense Max 2 Masturbator
General Description
It's one of the most adjustable masturbation tools destined to deliver unique sensations to the users. It's suitable for the majority of sizes, and it provides impressive stimulation.
In addition to the basic sleeve option of this toy, there's a possibility of buying a fake vagina option. The manufacturer proudly calls Max 2 one of the most realistic jack-off devices.
What is so special about this fake pussy that the manufacturer is sure it's one of the best choices in the market? We hope our review will be handy.
Specs
It connects with your phone so that you could use some of the remote control options;
There's a possibility for a long-distance control so that you could play with your partner;
You'll get a chance to boost up your long-distance sex thanks to the distant synchronization option;
There are three fake pussy contraction settings: deep, mild, and subtle;
The pussy is fully rechargeable;
It's not waterproof, but splashes of liquid will not hurt it.
Customers' Opinion
PROs

CONs

The pressure combined with the properly chosen vibration setting will make you cum earlier than you might control it;
It's a perfect self-satisfaction and stamina training device;
The position of the control buttons, as well as their quality, are better than on the original versions of this device;
The outer design is stylish and appealing – if you choose a neutrally-looking sleeve, the majority of people who see it accidentally will never guess what it is.

Owners of fat and long boners will be disappointed – nevertheless, stroking with this tool will be pleasing in any case.
4. F1s by LELO
General Description
The fake pussy will help you break the line between pleasure and science.
You'll be surprised at how the set of enhanced functions can boost up your sexual performance and deliver the incredible pleasure that you'll crave for more and more.
LELO magical fake pussy has two built-in motors. Combined with a couple of the other revolutionary technologies, this device will give you a chance to experience something mind-blowing and unpredictable. The following review might come in handy.
Specs
The tool has intuitive and effortless controls and is designed so that you can use it with one hand;
The body of the device is made of textured, high-grade aluminum so that you have no trouble gripping it;
The design is ergonomic, and the inner materials are safe for your skin;
You'll feel the inner curve, which was crafted with your cock's physiological shape in mind;
The masturbator has a visual dimension window panel – this will make your partner, and you feel even more excited;
The tool works best for both iOS and Android devices;
The tool is waterproof according to the descriptions of the customers and their every single review;
F1 can be used for about 2 hours after a complete charge;
It's a smart sextech jack-off console able to fulfill your needs by means of 10 sensors that know how to stimulate depending on how horny and hard you are.
Customers' Opinion
PROs

CONs

It's one of the most popular masturbators in the market nowadays.
The design is appealing, and the controls are intuitive. Besides, there's a convenient mobile application available free of charge for iOS and Android devices.
The maintenance is effortless. The whole mechanism is resistant to water. Just use a special cleaning solution or wash it with warm water.
It's one of the best options for people who still feel insecure and awkward about using sex toys!
The intellectual system helps to prolong and magnify your orgasms.
It does not feel like a DEVICE. Just lube it up and enjoy the show because the feeling is very natural.

It's not the best option for the beginners and for those who have no idea on how to use and automated sex toy. Using regular masturbators will be more beneficial at the beginning.
5. Stoya Destroya Combo
General Description
The combo package offered by FLESHLIGHT includes:
The casing stuffed with the sleeve molded from Jessica Stoyadinovich – one of the best and most popular porn actresses;
Best maintenance solutions;
Water-based lubricant (the renowned Fleshlube Water);
Printed instructions about the usage and maintenance of your toy.
Specs
It's one of the tightest and most stimulating fake pussies ever released by FLESHLIGHT;
The design of the orifice is very close to reality with the signature of an actress;
The materials are safe for anyone and vegan-friendly;
The SuperSkin material feels like real skin to the touch;
The inner structure if the sleeve is far from natural – it's tight and extremely stimulating;
Use Stoya Destroya as the best way of boosting your sexual stamina and performance;
Warm it up with warm water before the use;
9 inches of insertable length.
Customers' Opinion
PROs

CONs

Stoya is not afraid of water – you can take it to the shower and fix it to the wall by means of a special mount.
The pronounced surface of the inside is one of the most enjoyable things for the majority of the customers. It makes you climax faster than you expect, but the stimulation results in incredible orgasms and complete satisfaction.

It's surprising to mention that this FLESHLIGHT product does not have any significant faulty characteristics to mention. Just make sure you keep your device clean, wash it out properly after every use, and don't forget to use talc or special powder to keep the inner surface of the masturbator safe from the deterioration.

Best Fake Pussy: Bottom Line
Never strive for anything that is called "entirely realistic."
The only close-to life feeling is provided by the material of the surface. In any case, the aim of a masturbation device is to feel you higher than you've ever been.
Each of the tools described above is far from realism. Nevertheless, each of them will deliver strong emotions and incredible satisfaction.
The best fakes pussies: how to make a hologram, parts, and toys for female and male
1. Stoya Destroya Pocket Pussy
The Stoya Destroya Pocket Pussy is a powerful and tight fake vagina from the Fleshlight Girls line. It is designed to be a realistic imitation of Stoya's vulva and is made from a material called SuperSkin that is soft and skin-safe. Its unique texture consists of several chambers, each with different sized bumps and teeth-like projections that stimulate the penis from all angles. Additionally, the open-ended sleeve design has a bottom cap, allowing users to control the suction power, while they can choose between a vagina or butt orifice.
This pocket pussy is popular because of its intense sensation, its realistic design, and its compatibility with the Fleshlight Launch machine. It arouses fantasy and fulfills desires, while being lightweight and easy to use with water-submersible qualities. It is also an ideal toy for those with smaller penises as the first two chambers are the most intense. All in all, the Stoya Destroya Pocket Pussy is a popular option due to its intense, realistic and ergonomic design, as well as its compatibility with other Fleshlight machines.
2. Riley Reid Utopia Texture
The Riley Reid Utopia Texture is a popular fake pussy because it is modeled after the acclaimed Florida porn star, Riley Reid's anatomy. It is coiled and ribbed, giving it an intense stimulation with its nine inch internal pleasure. What makes this texture special is that it is temperature-responsive and easy to clean as the removable sleeve is temperature-responsive, as well as easy to clean. Additionally, the texture is designed to mimic anal sex due to its tightness and narrowness. It also has three distinctive chambers, providing the user various pleasurable sensations throughout the sleeve. The well-calculated mix of bumps and ribs make the texture even more stimulating. In conclusion, the Riley Reid Utopia Texture is a popular fake pussy due to its ability to mimic the anatomy of Riley Reid, as well as its stimulating texture and pleasurable sensations.
3. Fleshlight Launch Series
The Fleshlight Launch Series is a line of virtual reality sex toys designed to provide hands-free stimulation. This line comes with a special device that syncs up with VR content and simulates the movements onscreen. It is also compatible with Fleshlight devices, allowing you to customize the length and speed of the strokes. Additionally, the device is rechargeable and can be used with VR goggles for a more immersive experience. The Fleshlight Launch Series is a popular choice for those looking for a realistic experience, as the SuperSkin material used in the replicas of porn star's body parts is temperature responsive and can be submerged in water to add to the realism. It is also compatible with the hands-free Universal Launch device for enhanced performance.
4. Tenga Flip Zero
The Tenga Flip Zero is one of Tenga's most popular pocket pussies, and for good reason. It's made with a unique design that looks and feels just like the real thing. The outside is made out of a harder plastic material, while the inside is made up of soft and intense textures that create an unbelievably realistic experience. It also has two vibrating cores with five different settings, is rechargeable, waterproof, and comes with two packets of TENGA Hole lube. It's also easy to clean, as it opens up like a hinge and provides easy access to every crook and crevice. Plus, you can squeeze it from the sides to increase the pressure and intensity. The only downside is that it's more expensive than other pocket pussies, but the quality and experience makes it worth it. Ultimately, the Tenga Flip Zero is a popular fake pussy because it offers an incredibly realistic experience that you can use time and time again.
5. Superskin Pure Skin Stroker
The Superskin Pure Skin Stroker is a popular fake pussy because it provides users with a realistic experience. The toy is made of body-safe TPR material and features a textured inner chamber for added stimulation. The 5-inch internal length and 0.7-inch diameter is designed to accommodate most guys, even those with a girthier size. This pocket pussy also features an open-ended design which makes it easy to clean and maintain. Additionally, the bottom cap allows for suction control for even more realistic sensations. The pocket pussy's impressive 3-point entry design plus transparent view allows for a variety of new possibilities for users. Finally, the pocket pussy can be submerged in warm water for a more lifelike experience. All of these features make the Superskin Pure Skin Stroker an excellent choice for a fake pussy.
7. Turbo Thrust Pro Mini Ella
The Turbo Thrust Pro Mini Ella package includes a 5″ insertable, TPE material pocket pussy, with drippy pussy lips and ribbed, tight inner walls for maximum stimulation. It also features a small hole at the bottom where you can slide in a bullet vibrator, and a remote control for kinkier couple's play. To complete the package, it also comes with a USB rechargeable battery and is 100% waterproof.
9. Utopia-X Ex Series
The Utopia-X Ex Series is a line of Fleshlight sex toys created to provide users with an ultra-realistic experience. The series is designed to replicate the body of porn star Riley Reid, with a coiled and ribbed texture to provide intense stimulation. The sleeve is made from temperature-responsive Superskin material, which is easy to clean and maintain.
The series includes several features that make it stand out from other products. It has a suction control on the end of the sleeve, allowing users to adjust the tightness of their experience. There are also more than 30 different Fleshlight Girls available, giving users a wide range of options to choose from. Additionally, the sleeve is textured with nine inches of internal pleasure and is equipped with two vibration bullets with ten functions. Lastly, the Fleshlight is low maintenance, with a rechargeable battery and discreet billing and shipping.
11. Tenga Egg Variety Pack
The Tenga EGG Variety Pack includes six different disposable mini pocket pussy sleeves: Wavy, Silky, Twister, Easy Beat Egg Male Masturbation Toy (Thunder White), SPINNER Cup Male Masturbator (Reusable Spiral Motion and Intimate Pleasure Device Men Masturber), Tracy's Dog Male Masturbators Cup (Adult Sex Toys Realistic Textured Pocket Vagina Pussy Man Masturbation Stroker), FST Automatic Temperature Control Heating Rods for Masturbator Pocket Pussy Artificial Vagina Adult Sex Products, Male Masturbator Sex Toys for Men (Portable Pocket Pussy Stroker with Vagina Textured Blowjob Penis TPE Masturbation Sleeve for Males), Pocket Pussy for Men – Men's Sex Toys Male Masturbators Realistic Adult Sex Doll Hands Free Stroker 3D Lifelike Soft Butt with Vagina Anal Sex Pleasure, Automatic Male Masturbators Cup (Male Masturbator Toy with 7 Thrusting & Rotating, 50dB Quiet Hands Free Pocket Pussy Stroker, 3D Realistic Sleeve Blowjobsex Machine), TENGA TOC-201 Original Pre-Lubricated Male Masturbator Vacuum Cup with Powerful Suction, 3 in 1 Pocket Pussy Male Masturbators with Lifelike Face (Sex Doll with Realistic Textured Mouth Vagina and Tight Anus Masturbator Deep Throat Oral Adult Sex Toys for Men Masturbation), ZEMALIA 3 in 1 Male Masturbator Adult Sex Toys with Realistic Textured, Men's Pocket Stroker Toy for Adult Men Masturbation, Automatic Male Masturbator (with 10 Vibrating & 6 Thrusting, LCD Display Adult Male Sex Toys for Men Pocket Pussy, Male Stroker Sex Toy Realistic Sleeve Blowjobsex Machine for Men), Male Masturbator Egg (Lilecemie Portable Pleasure Pocket Pussy Stroker with 3D Realistic Textured Vagina Ultra Soft Stretchy Male Masturbators Cup,Blowjob Adult Male Sex Toys for Men), Automatic Male Masturbator (with 9 Suction & 10 Vibrating & Heating for Mens Male Sex Toys, Hands Free Male Stroker Toy, Blowjobsex Machine Adult Sex Toys for Mens), Fleshlight (Quickshot Vantage Adult Couples Sex Toy), Adult Sex Toy Automatic Male Masturbators Cup (Male Masturbator Toy with 7 Thrusting & Rotating, Electric Pocket Pussy for Man Masturbation Stroker, Male Men's Sex Toy-Sex Toys for Men), and Automatic Male Masturbator (Penis Stroker with 7 Thrusting & Roating Modes, Electric Pocket Pussy for Men Waterproof, Sex Toys for Men Pleasure Adult Sex Machine).
12. Je Joue Rabbit Oil Vibe
The Je Joue Rabbit Oil Vibe is an innovative sex toy designed to provide maximum pleasure. It is a multi-purpose vibrator with an oil-filled reservoir that can be used to make a fake pussy. The oil-filled reservoir holds the toy in place, providing a realistic feel, and the vibration intensity can be adjusted for a customized experience. To use this toy to make a fake pussy, first fill the oil reservoir with your desired lubricant. Then, use the external controls to adjust the vibration intensity. Next, apply the vibrator to the desired area and use it to simulate the feeling of real oral or penetrative sex. Finally, lube up the area once more and enjoy the realistic feeling of a fake pussy.
14. QuickShot Vantage
The Fleshlight Quickshot Vantage is a popular choice for fakes vaginas as it is a reusable, portable and transparent sleeve made from Fleshlight's superskin material, giving it a "winding, grinding screw-like texture". It has caps on both ends to ensure easy transport and storage, and is open on both ends, allowing partners to receive manual or oral stimulation on the other side. Its easy-to-clean, compact design makes it super portable, and its nice-looking design makes it a great choice for those looking for visual stimulation. However, its size might be too small for some penises.
16. Ana Spdx Pocket Pussy
The Puni Ana SPDX Pocket Pussy is a popular fake pussy for those who want a sex doll experience that is smaller and easier to store than a full-size doll. It is made of soft plastic and has an internal hard skeleton, which gives it the feeling of a real sex doll. It is about 6″ in length and weighs 8.8 lbs, making it easy to handle and responsive to movements. Additionally, it has two orifices – a vagina and an ass – which are designed to provide a realistic experience. The vagina has a twisty canal and a raised G-spot while the ass has bumps and dots for a more pronounced feeling. It also features a dual-layer design that makes the experience more lifelike. Additionally, the weight and responsiveness of the skeleton make it feel more like a real sex doll than a simple stroker. The Puni Ana SPDX Pocket Pussy is a great choice for those who want to experience a sex doll-like experience without the hassle of storing a larger doll.
FAQ
What is a fake pussy?
A fake pussy is a realistic replica of a female vagina made from soft, resilient and skin-like material. It's created to provide a realistic sexual experience and can come in different forms, from pocket pussies to life-sized torsos with realistic detailings of the clitoris, labia and vaginal/anal openings. Fake pussies often feature ribbed canals for added stimulation and come in different angles, making it possible to enjoy doggy-style or missionary-style action. Fake pussies also come with a realistic labia and clit, allowing you to star in your own fantasy porn. They're easy to clean and reuse and provide great sensations, making them an excellent tool for having pleasurable orgasms.
How do you make a fake pussy?
Step 1: Gather your materials. You will need a soft and durable material to construct your fake pussy. Skin-safe silicone is the best option. You may also want to purchase a torso or ass to make the experience more realistic.
Step 2: Start by cutting the material into the shape of a vagina. If you have a torso or ass, make sure to cut it to the same shape.
Step 3: Carefully begin to shape the inner walls of your fake pussy. Use an irregularly curved and ribbed tool to help create a realistic experience.
Step 4: Consider adding a clitoris, labia, and vaginal/anal openings to your fake pussy. For a more realistic experience, you can purchase a model that has these features already included.
Step 5: Add a vibrator or other sex toy to your fake pussy for added pleasure. This will allow you to increase or decrease the intensity of your experience.
Step 6: Test out your fake pussy and make sure it is comfortable and pleasurable.
Step 7: When you are finished using your fake pussy, remember to clean it with mild soap and warm water. This will help to maintain its longevity.
What materials are used to make a fake pussy?
Fake pussies come in different forms and materials. The best material to use for making a fake pussy is often silicone, as it is soft, durable, and body-safe. Other materials that are used for creating these realistic replicas of female parts are TPR, elastomer, and Cyberskin. TPR is a type of vinyl that is used to make realistic body parts. Elastomer is a rubber-like material that is softer than TPR, and is used to create realistic textures and details. Cyberskin is a type of material composed of three layers that is specifically designed to mimic the feel of real skin.
How do the different textures affect the experience?
The texture of a pocket pussy can greatly affect the experience of using it. Smooth tunnels provide a seamless glide, ribbed tunnels offer noticeable texture, and bumpy tunnels are the most lifelike. Realistic pocket pussies have an irregular soft texture that perfectly imitates the experience of penetrating through a real vagina and ass. Smaller strokers have a closed end which creates a soft sucking sensation on the head of your penis while you thrust. On the other hand, open ended pocket pussies allow you to squeeze the tip during use to simulate a tighter vagina. However, no matter how detailed and intricate a fake pussy is, it cannot replicate the enthusiasm and human connection that sex with a real partner provides. Ultimately, it is important to choose a toy with a texture that appeals to you and provides the most enjoyment.
How do you use a fake pussy?
Step 1: Determine whether you want to use a pocket pussy or a realistic vagina. A pocket vagina works almost like a masturbation sleeve and you need to pull it over your lap rocket. For a realistic vagina, you have to position it so that you can get up in there.
Step 2: Begin stroking the toy. If you're using a pocket pussy, use gentle motions to feel the texture. With a realistic vagina, you can simulate doggy style or missionary position.
Step 3: You can enhance your experience by using a phone or tablet to watch porn. If you have a VR headset, you can make the experience even cooler.
Step 4: If you want to experience anal sex with your fake pussy, make sure that you get one with a butt.
Step 5: Use lubricant for a smoother experience.
Step 6: Enjoy the sensation of the textured, ribbed canal and stimulating clitoris and labia.
Step 7: Clean up is easy. If your toy is water-resistant, you can even enjoy it in the shower.
What are the pros and cons of using a fake pussy?
The pros of using a fake pussy include the realistic look and feel of the device, the ability to customize and choose a design that best simulates the real experience, and the chance to explore fantasies and sexual desires without having to rely on a partner. On the other hand, there are some cons to using a fake pussy. The material may cause skin irritations if not used with enough lubrication, the device may not be sanitary if not maintained properly, and, depending on the size and design, it may be difficult to hide from guests and roommates. Additionally, it can be difficult to know which material will feel the best without trying it out, making it hard to make an informed decision. Ultimately, it is up to the individual to weigh the pros and cons and decide if a fake pussy is right for them.
How do you clean a fake pussy?
How do you clean a fake pussy? [Step-by-step instructions]
Wash the toy with mild soap and warm water. Avoid using harsh chemicals as they can damage the material.
Always let it dry completely before using it again.
Take apart your toy if needed and flush out any orifices with warm water.
Use gentle soap or a specialized toy cleaner if some extra cleaning is needed.
For any stuck-on bits, use your fingers to rub them off.
Place the toy aside to dry completely.
If there is a case, rinse this piece as well using warm water and gentle soap.
When everything is dry, put the toy back together and store it until its next use.
If there is a cleaning kit, be sure to follow the instructions on how to properly use this to clean the toy.
Run the toy under some lukewarm water and add a couple of drops of a premium toy cleaner.
Scrub away with your fingers or cleaning sponges.
Rinse the toy with water until there are no suds left.
Set the toy onto a dry kitchen towel until there's no water inside.
Shove a kitchen towel or some toilet paper up the hole to ensure you get every single drop of water.
Put some maintenance powder all up inside the fake vagina.
Store the toy in a dry, safe place until its next use.
What are the different types of fake pussies available?
When it comes to choosing a fake pussy, there are a variety of options available. The most common types of fake pussies include pocket pussies, life-sized pussies, synthetic pussies, vibrating pussies, and realistic pussies.
Pocket pussies are smaller and more compact than their life-sized counterparts and can be easily held in the palm of your hand. They are designed to offer a realistic experience without taking up too much space.
Life-sized pussies are made to look and feel like a real vagina. They come in different shapes, sizes, and materials and feature details like labia, clitoris, and vaginal/anal openings. These are ideal for those who want to experience an intimate and realistic experience.
Synthetic pussies are made of soft, durable material and are designed to simulate a realistic sexual experience. They often feature textured, ribbed canals for added stimulation and pleasure.
Vibrating pussies are similar to synthetic pussies but with the added bonus of vibration. This can provide an even more intense experience.
Realistic pussies are designed to look and feel exactly like the real thing. They come in different angles and can replicate the sensation of real sex.
Are fake pussies safe to use?
Are fake pussies safe to use? Argumentation
Fake pussies can be a great way to experience pleasurable sexual gratification without the worry of potential harm or embarrassment. With proper care and usage, these toys can provide users with hours of enjoyment with no risk of injury.
First, it is important to understand the materials used in the construction of fake pussies. Many are made of soft, skin-like silicone and other materials to replicate the feel of a real vagina. This makes them safe to the touch and allows for a realistic experience.
Second, it is important to take the proper precautions when handling a fake pussy. Always use plenty of lubricant to reduce the risk of skin irritation. Additionally, practice good hygiene to avoid any infections or allergic reactions. Finally, always read the instructions on the label to make sure you are using the toy correctly and safely.
Finally, fake pussies are incredibly versatile and can provide users with a variety of options. From pocket pussies to large life-sized models, there is something for everyone. With the right care and maintenance, these toys can provide users with hours of stimulating pleasure. So if you're looking for an alternative way to enjoy yourself, a fake pussy might be just what you need!