It may seem that the Launch is for lazy lovers of self-satisfaction. Like, he is so idle that he can't even twitch his hand. It's actually hard to say so.
The question is, what exactly do you want to get from masturbation. Perhaps this is an improvement of sexual endurance or stress relief.
Or maybe you're just searching for someone special and have not yet found the ideal partner – well, that's no reason to lose your sexual skills because of this. It doesn't matter which you masturbate for; it's important what feelings you want to get from the process. So it's time to free your hands and let outside all your wild sexual fantasies. And this can only be done with the Launch.
Fleshlight are working to make toys more realistic while delivering maximum orgasmic sensations
The sleeve can have a detailed realistic design that completely repeats the outline of the labia, clitoris, and cunt
This is an automatic devices, which can take your Fleshlight masturbation to an entirely new level
1. Quickshot Launch
We are starting our review from this Launch for a good reason. The existence of an automatic masturbator was more like a fantasy. They existed, but the quality left much to be desired.
It was difficult to control such devices, not to mention the fact that electric drives did not provide sufficient intensity and smoothness of movements.
Such a device was worth buying just if you want to feel irritation instead of the usual want – you might as well handle a penis with your hand and save money.
Fleshlight changed the situation – the manufacturer of the best masturbation sleeves, and other toys always focused on additional accessories.
It is understandable, without these additions, masturbation can become boring and the same routine.
The popularity of Fleshlights grows just thanks to the idea that toys for adult boys are not the fate for sad and lonely, but the most important and necessary addition to bedroom games, must-have of every self-respecting man who wants to enjoy a full-fledged sexual life. And even the girls agreed that. So, the fact that Fleshlight actively develops different additional devices is not surprising. It was expected that they create the first really efficient Launch.
Advantages and drawbacks
The Fleshlight Launch is easy to use. It has two convenient handles to keep the device during masturbation. You can also fix it on any flat surface.
Before using Fleshlight Launch, remove lids from your Quickshot and insert it into the cradle. It is see-through, so if you are using Quickshot Vantage, you can still observe your tip.
The device has the phone carriage at the top, so you can savor your favorite dirty video during the process, controlling the level of your enjoyment.
That makes the Launch interactive. Wingnut helps to regulate its viewing angle.
To start the Fleshlight Launch press and hold the power button on the right side grip, then insert your dick and regulate stroke position, extent, and speed. Change these settings during masturbation to expedite or prolong culmination. Enjoy your Launch!
Review of pros
This device can be used with any Fleshlight Quickshot. All you need id just to lock your masturbator into the clear cradle and start the Launch. The interactive device equipped with the multi-functional power button.
So, about the pros:
the fine-tuning of speed, extent, and position of strokes due to features controls;
you can switch through the three pleasure zones – base, shaft or tip – according to your preferences;
buttons are conveniently located on the handles, so it's easy to control the Launch keeping both hands on them… it seems like a joystick;
smartphone mount on top – speaking of videogames;
interactive Bluetooth connection;
with a full charge Fleshlight Launch can run over 60 minutes;
it is easy to clean the device after you finish.
Review of cons
Obviously, the main reason for you to read these reviews is to find out how it feels. I'm not going to lie. At first, it is strange and unusual. It is difficult to focus on orgasm, trying to manage control buttons at the same time. But after several times, I found that Launch brings a unique pleasure, which is difficult to compare with using of Fleshlight and hands. It is fun and worth a try.
Reviews
I often go on business trips, so my girlfriend insisted on Fleshlight to avoid temptation, and I agreed. Then I presented myself with the Launch, and it is pretty amazing.
All you need to do is just handle it on while it is riding your dick. And now we are using it constantly in our bedroom games, and know what? It feels like threesome by inviting Skynet.
2. Quickshot Launch Riley Reid Pack
The Launch is a new interactive device that fully automates the masturbation process with your Fleshlight. It allows you to combine masturbation with watching your favorite erotic films.
This toy is not just a masturbator, but a full-fledged sex simulator.
It is designed in such a way that your Fleshlight moves down and up, simulating the movements of the throat, butt or vagina and thrilling your dick.
The most exciting is that you can regulate the Launch to suit your needs. Want to slow down or speed up movements of Fleshlight or give them a new slope? This is easy thanks to fine-tuning controls. The Launch itself is large, noisy, and heavy, but this doesn't negate the fact that you can experience magical and unusual sensations using it. Just don't rush to evict your partner – the Launch can be used together, it's even more fun and exciting.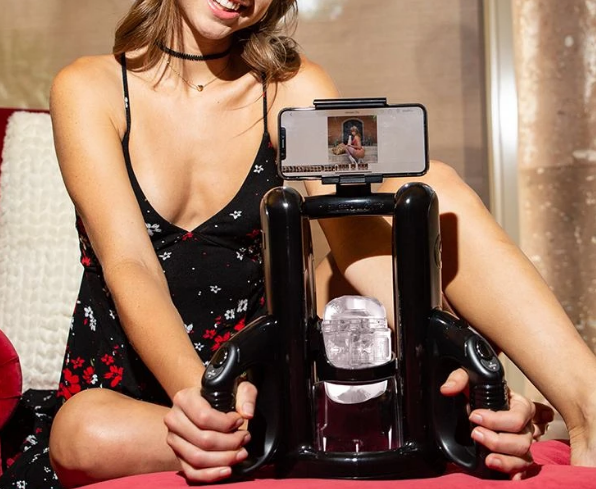 Advantages and drawbacks
The incredible thing about this kit is you have the Riley Reid open-ended Fleshlight in it. It is completely see-through, so you can observe your naughty tip penetrating the thrilling cunt. The unique Fleshlight that you'll get looks fascinating and attached tightly to the cock. It can be used not only with the Launch but as supplementary stimulation during the couple's blowjob or wank.
This Fleshlight simulate the tight pussy of famous pornstar, so you can imagine Riley Reid in your bedroom treating your dick at her full potential.
The internal texture of the sleeve is designed to bring you as much orgasmic stimulation as possible. It is hard to control culmination, so get ready for a bright, explosive orgasm. And – as always, Fleshlight has not forgotten those who welcome diversity – you have two orifices in Fleshlight. One is tighter and curved to simulate backdoor penetration — another one a little bit wider but with rounded bumps to massage your shaft. You must definitely try it.
Review of pros
Let's not forget that we are talking about an interactive device. And the reviews, by the way, are simply fantastic. Fleshlight Launch has a smartphone mount on the top and interactive Bluetooth connection. So you can enjoy your favorite videos with Riley Reid during the process. To regulate the motions of the Launch, there are sensitive buttons. You can set the frequency, extent, and direction of the strokes.
The Fleshlight Launch has apparent pros:
it's adjustable;
it is easy to use;
you don't need to involve your hands in wank;
you have open-ended Fleshlight and lube in a kit;
you can apply Fleshlight Launch in a solo game or together with your partner as additional stimulation.
Review of cons
Our review would not be complete without noticing some drawbacks:
you can't use full-sized Fleshlight with the Launch;
interactive device is not waterproof;
it is really hard to hide.
Reviews
To be honest, I always dreamed of trying a threesome. But my partner is against, and I respect his decision. We are y very sensitive about each other, and he is a special one for me. But the desire can't just vanish, and the use of toys can't give a full sensation. If I hold Fleshlight, I understand that it is self-pleasuring.
And if my partner holds Fleshlight, his hands are busy, and I lose the opportunity to enjoy his affection. So for us, Launch was a great solution. I tried what I wanted, and now I feel reassured. The only thing I would like to use it with all my favorite Fleshlight, but this is impossible. And the device seemed a little fragile to me. I was afraid to thrust it as hard as I would like.
3. Quickshot Launch Vantage Pack
Now you will have even more opportunities to use your beloved Fleshlight Vantage.
This is a smart interactive toy that is designed to mix your feelings and emotions.
The inner texture of the sleeve retains bumps, pimples, curves, bulges, and various patterns, and buttons on the control Launch panel allow you to control the level and force of pressure and speed of movements, stimulating the desired punani areas.
The Launch seems to be intimidating, but on the other hand, it is insanely impressive. Soft and resilient silicone of Fleshlight allows you to access its full strength to enjoy the capabilities of the toy and bring your penis to unprecedented heights of sensual pleasure.
Advantages and drawbacks
At first glance, the toy looks strange, and it is hard to imagine that it has a relation to masturbation. But this is only a first impression. Fleshlight Launch plays a verily significant role in the sensations because it is adjustable under your needs and desires.
Moreover, the inner textures of your Fleshlight can now be used to their full potential.
Only for this, hands are no longer needed. Free them to caress yourself, your partner, or simply hold them on the control handles to change the speed and intensity of the impact at any time.
Review of pros
The main advantage of this kit is that you get everything you need to start a handjob (can we still call it "hand" job, eh?) right at the moment. Naturally, the package will not have any identification marks, so you can straightly look the delivery man into the eyes. In the box, youэll find the Launch itself, one of the most popular Fleshlight -Vantage, the cable for charging and connecting, a smartphone mount, and a water-based lubricant. All as expected.
To start jerking off, you will need a few minutes, which is required to set up your favorite porn.
And, the instruction is also in the kit… it doesn't seem like you really need it. Where to stick a dick, and so it is clear, all the settings are intuitive, and I hope the idea of frying eggs on the Launch never comes into your head.
So, about the advantages:
it makes your handjob hands-free;
you can regulate the strength of stimulation;
you can use it both with your partner, and it's worth trying;
you have everything you need in one kit.
Review of cons
Now for the drawbacks:
the thing is quite huge. It will be challenging to take it with you on a trip or somewhere else discreetly, so you have to keep your interactive pet at home;
it cannot be used in the shower, as it is not waterproof;
you'll need a significant amount of lube, as usual, water-based one;
since you use the open-ended Fleshlight, you'll have to clean the device after finish (why, why everything should always be cleaned).
Reviews
I can't wait to share impressions of Fleshlight Launch. It is not noiseless, so if your goal is quick wank while your partner does not see it – this is not what you need. I was lucky. I knew that Launch would be nice for both of us. Further, without lubrication, it is better not to start.
If I can stick it in the usual Fleshlight, here there is much higher stimulation. With lube, it goes well. Mostly, I'm positively impressed with it. The Launch jerks off truly majestic.
Conclusion
An interactive device for Fleshlight is a novelty in the masturbator market, which appeared more recently. Before Launch, it seemed not possible to create an automatic device that would really cope with the smooth and fast masturbation movements. Finally, we are into it! If you like the theme of the future and if you are dreaming of futuristic sex, you might be quite excited about it.
Entrust your dick to Launch in the era of technological breakthroughs. A special mount is designed to hold the compact Fleshlight and free your hands.
Moreover, it provides smooth stimulation with a speed of more than 200 strokes per minute. For those who are short of imagination – it's fast, by handjob you won't reach such a speed. Well, have you already started to try it? For complete immersion, a smartphone with your favorite video can be attached to a special mount and connected via Bluetooth to synchronize porn and fleshlights movements.
Further, it's enough to turn on the toy, set up and enjoy porn, while it will make thrusting movements, masturbating to you.
Does it all sound beautiful?
Recently, everything connected with interactive masturbators or any other toys that can be controlled through devices immediately take off in sales.
Routine and boring masturbation is no longer interesting to anyone.
What is the Fleshlight Launch?
The Fleshlight Launch is an innovative new way to experience virtual reality sex. It combines state-of-the-art technology with the world's best male masturbator to create a truly immersive and intensely pleasurable sexual experience.
The Launch features two high-tech components: the Fleshlight Launchpad and the Fleshlight LaunchPulse. The Launchpad is a Bluetooth enabled device that pairs with compatible apps on your smartphone or tablet to control and customize your experience, while the LaunchPulse adds even more realistic sensations and feedback by syncing up with your favorite erotic content.
Using your device's gyroscope, accelerometer, and other sensors, you can interact with virtual partners in real time as they respond to your movements with synchronized vibrations that match their motions. This creates a level of realism never before seen in adult entertainment experiences. Plus, you can track your performance over time as you unlock achievements and reach higher levels of pleasure.
Whether you are looking for an enhanced solo session or a convenient way to connect with partners from around the world, the Fleshlight Launch has something for everyone. With its cutting edge technology and customizable settings, it provides an unprecedented level of control over your sexual pleasure – creating an unforgettable experience every time.
What features does the Fleshlight Launch offer?
The Fleshlight Launch has a lot of features that make it an ideal choice for anyone looking to have a truly immersive experience with their favorite Fleshlight product. First, the device comes with patented Kiiroo technology, allowing users to sync up their devices with interactive content from leading adult entertainment providers like FeelMe and StudioFOW. This allows you to take control of your pleasure and explore different sensations while viewing or listening to different types of content. Additionally, the device is Bluetooth enabled so you can control it remotely using an app on your phone or compatible device.
The Launch also includes a built-in autoresponder feature which allows you to send personalized messages back-and-forth between two devices. This creates a more intimate experience as it allows two people to interact in real time without any physical contact. It's perfect for long-distance relationships or just having fun!
Finally, the device itself is adjustable so you can customize the intensity level of your experience based on your own personal preferences. The controls are easy to use and straightforward making it simple for users who may not be tech savvy.
Overall, the Fleshlight Launch offers users a variety of features that make it perfect for exploring new levels of pleasure with their favorite Fleshlight products. With its innovative technology, remote capabilities and adjustable functions, this device is sure to provide an unforgettable experience every time!
How does the Fleshlight Launch work?
The Fleshlight Launch is an innovative new product that allows users to experience the ultimate in pleasure. This revolutionary device combines the feel of a real-life sexual experience with the convenience and discretion of a virtual one. The Fleshlight Launch is designed to provide users with an incredibly realistic and immersive experience, thanks to its advanced technology and ergonomic design.
At its core, the Fleshlight Launch is a robotic device that holds a standard Fleshlight masturbator sleeve. It can be synced with any compatible porn or gaming platform through either Bluetooth or USB connection. Once it's connected, users can select from a range of pre-programmed settings or customize their own for a totally unique sexual encounter every time.
The robot arm inside the device moves up and down, simulating thrusting motions just like in real life sex. The movements are controlled by an AI-based algorithm which responds to user input, allowing them to select different speeds, patterns, and intensity levels. This provides users with complete control over their experience while still providing the realism of human interaction.
The device also includes several other features such as adjustable suction levels, heat controls, and even interactive vibration modes that sync up with any participating content provider so you can enjoy your favorite scenes at their most intense level! Best of all? The Fleshlight Launch is completely waterproof so you can take your pleasure session anywhere – no strings attached!
How does the Fleshlight Launch sync with interactive content?
The Fleshlight Launch is an innovative and revolutionary device that brings your favorite interactive content to life. It syncs with compatible interactive content and uses advanced teledildonic technology to create a truly immersive experience. This means that when you use the Fleshlight Launch, you can control your pleasure in real-time as you watch or play through the interactive content.
The way it works is simple: The Fleshlight Launch uses Bluetooth technology to connect to compatible interactive content such as VR videos, streaming porn sites, game systems, and even toys. Once connected, the motion sensors in the device detect your movements and use that data to interact with the content. For example, if you're watching a VR video, your thrusts will be reflected on screen; if you're playing a game system like PlayStation or Xbox, your movements will affect how you progress; and if you're using a toy like Lovense or Kiiroo Onyx2, those motions will create different sensations in response.
It's an incredibly exciting new way to enjoy digital entertainment – one where users can now have an active role in their own pleasure! With an ever-growing list of compatible content available for the Fleshlight Launch, there's no limit to what users can experience – so why not try out this groundbreaking technology today?
What is the texture of the Fleshlight Launch sleeve?
The Fleshlight Launch sleeve is designed to be as realistic and lifelike as possible, while still providing a pleasurable experience. The texture of the sleeve consists of three distinct layers that work together to create an incredibly stimulating sensation. The first layer is made up of two sets of interlocking ridges that provide the foundation for the other two layers. The second layer consists of hundreds of small bumps and nodules that massage and tease your member as you thrust into it. Finally, the third layer features a unique combination of soft ribs, spirals, and raised dots that all come together to give you an unforgettable experience. All in all, this creates a texture that feels like nothing else on earth!
What kind of lube should be used with the Fleshlight Launch?
Choosing the right lube is an important step in getting the most out of your Fleshlight Launch experience. The best lube to use with the Fleshlight Launch is a water-based lubricant. This type of lubricant is safe to use with all materials and won't cause any damage to your device. Water-based lubes are also compatible with condoms, making them a great choice for people who want to keep their playtime as safe as possible.
When choosing a water-based lubricant, there are a few things you should look out for. Make sure that the lube you pick doesn't contain any harmful ingredients like glycerin or parabens, which can be irritating to sensitive skin. Additionally, choose a product that has been specifically designed for sex toys – these formulas will be gentle on your device and last longer than regular lubes.
Finally, it's important to pay attention to texture when selecting a water-based lubricant for your Fleshlight Launch. Silicone-based lubes can feel too slippery and may not provide enough friction during use, so make sure you pick something that offers just the right amount of slickness without being overly oily or greasy. A good rule of thumb is to go for something that feels like liquid silk on your skin – this will provide enough slip without making things too messy or uncomfortable.
Is the Fleshlight Launch compatible with other Fleshlights?
The Fleshlight Launch is a revolutionary device that gives users the ability to experience their favorite Fleshlight masturbators in an entirely new way. Unlike traditional Fleshlights, the Launch is designed to be used with VR goggles and motion sensors to provide an immersive virtual reality experience. The Launch also features a unique auto-stroking function, allowing users to customize their pleasure as they please.
In short, yes—the Fleshlight Launch is compatible with other Fleshlights! With its innovative design, you can easily insert your favorite Fleshlight into the Launch's specially designed casing and enjoy hands-free stimulation like never before. The unique auto-stroking feature provides an even more intense experience by adjusting speed and pressure based on your body movement and breathing patterns. And with its adjustable hold system, you can find the perfect fit for your favorite toy.
So if you're looking for a truly interactive masturbation experience, then look no further—the Fleshlight Launch is here! Get ready for next-level pleasure as you explore all of your fantasies with this amazing device!
How long does the battery last on the Fleshlight Launch?
The Fleshlight Launch is the latest in interactive virtual reality sex toys, offering a new way to experience pleasure. But when it comes to battery life, how long does the Fleshlight Launch last?
The answer depends on many factors, including factors like usage and environmental conditions. In general, however, you can expect your Fleshlight Launch to provide up to 4 hours of continuous use before needing a recharge. This means that no matter how hard you play with your Fleshlight Launch, you have plenty of time to enjoy yourself without worrying about running out of power.
And if you do run out of battery while using your Fleshlight Launch? Not to worry! The device features an innovative quick-charge technology that allows for rapid recharging–in as little as one hour! So even if you find yourself in need of some extra juice mid-session, your Fleshlight Launch will be back up and ready for action before you know it.
In short: with its cutting-edge battery technology and quick charging capabilities, the Fleshlight Launch provides users with all the power they need for an amazing virtual reality experience. Now all that's left is for you to plug in and get ready for a wild ride!
What is the warranty on the Fleshlight Launch?
The Fleshlight Launch is built to last and we stand behind it with a comprehensive 1 year warranty. This warranty covers any defects caused by materials or workmanship during the manufacturing process, so you can feel confident knowing that your experience will be as pleasurable as possible. If something does happen to go wrong, simply contact us and we'll make it right.
We also understand that accidents happen, and so the Fleshlight Launch comes with a 30-day satisfaction guarantee. If for any reason you are not satisfied with your purchase within the first 30 days of use, let us know and we'll give you a full refund – no questions asked. That's how confident we are in our products!
Does the Fleshlight Launch come with any accessories?
Yes, the Fleshlight Launch comes with all of the accessories you need to get started. The Launch includes a charging dock, USB cable, and an instructional booklet to help guide you through set-up and use. It also comes with three textured sleeves for you to choose from: the Stamina Training Unit (STU), the Destroya, and the Flight Instructor sleeve. Each sleeve provides its own unique experience, and pairs perfectly with the advanced technology of the Fleshlight Launch.
The Fleshlight Launch is designed to provide users with an entirely new level of sensation that simulates real sex in every way. The high-tech motor allows users to adjust intensity levels on demand while using one of three custom vibration modes – slow, medium or fast – allowing for endless experimentation and exploration. The texture of each sleeve is also adjustable, allowing users to customize their pleasure experience even further by controlling tightness levels.
To top it off, the Fleshlight Launch is compatible with interactive content providers like Kiiroo Onyx 2+ and FeelMe Connect so that you can enjoy a truly immersive experience with your partner regardless of distance! With all these features combined into one convenient package, it's no wonder why so many people are turning to the Fleshlight Launch for their pleasure needs!