The interactive sex toy is an exciting and unusual way to improve sexual life.
Most of the producers make a lot for women's pleasure, but when you try to find a high-tech device for men, you can't find anything.
So in this review, we gathered the best interactive sex toys for men and women both. Also, we made a rating and compared all models, so you can read this and pick your own best sex toy ever.
#
Top Interactive Sex Toys
Benefits
1

Autoblow A.I.


intense






CHECK CURRENT PRICE

Rechargeable devices are the best. This one is great about this because you don't need any batteries, just charge it again and again
Autoblow Al has a redesigned motor. It's quieter but three times more powerful
There are four buttons that let you rule the play and adjust the mode as you want

2

Vibease Esthesia


elegant






CHECK CURRENT PRICE

You can change any sexy tale in the app and feel a special pattern from the vibrator
The over-thought design lets women of any sizes and features feel comfortable with this toy
It's completely waterproof. You can use it in the shower or bath

3

Lovense Lush 2


unique






CHECK CURRENT PRICE

The button on the end of the toy lets to switch pattern even when the device is inside
This device is rechargeable and gives great play for a long time without charging
The powerful motor provides very powerful and vibration to all the important spots

4

Lovense Max 2


innovative






CHECK CURRENT PRICE

The toy is rechargeable, no batteries, and headaches about ecology
You can adjust the sucking power to get relaxed easy feeling or tight and powerful blowjob
It suits most of the penis sizes, so you can get your perfect stimulation on each inch

5

Womanizer Classic


original






CHECK CURRENT PRICE

The "Pleasure Air" technology doesn't require the touch, only keep it near
There are eight patterns of the stimulation, enough for most of the women
It's completely waterproof

6

Fleshlight Quickshot Launch Vantage Pack


perfect






CHECK CURRENT PRICE

This toy is rechargeable
Buttons are very comfortable to push
You get 8 ounces of water-based Fleshlube

7

Svakom IVY


great






CHECK CURRENT PRICE

The device is very compact, and it suits for the clitoris and G-spot stimulation both
There are 26 patterns
It is very quiet and completely waterproof
This interactive sex devices is made of soft silicone. It is safe and feels very comfortable
It is the perfect sex devices for discreet public play
The rabbit vibrator is a perfect choice if you want to get stimulation on the clitoris and G-spot both
1. Autoblow Al
This interactive sex toy for men provides a real-feel blowjob, and you have not got to use your hands or spend time on anything.
Just put it on your penis and feel incredible pleasure.
Pros
This is one of the most high-tech toys. The producer used the top abilities of the technique to make it the best interactive sex device in this review about the tech;
There are ten patterns of the move. Each of them is overthought and provides maximum pleasure. Do you like slow or fast stimulation? Do you need some stimulation on the glans or near the body? This device will give you a pleasant choice and a chance to try each pattern;
If you have a big cock and you had never tried deep throat, this is a nice chance to do it. This interactive toy will give unusual stimulation on each inch of your penis and has no emetic reflex;
It is easily washable. Just take the sleeve out and use some water and soft soap. Don't forget to let it dry and wash after each usage;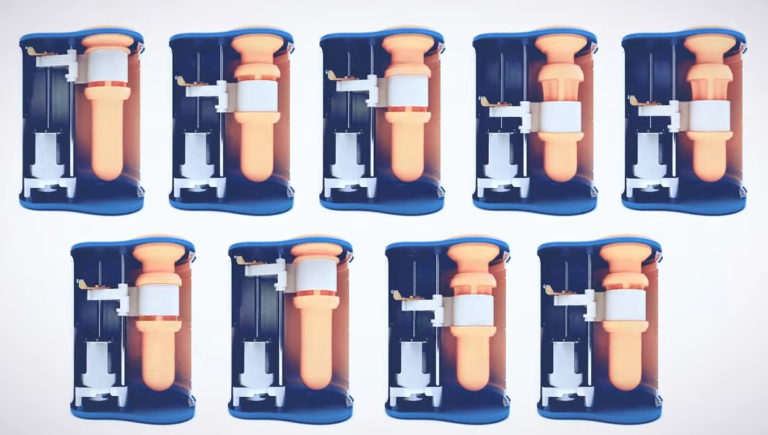 Artificial intelligence can make your play more interesting. You don't know what will it do, but can be sure that you will get great pleasure;
You can see the charging level and charge it if it's needed. So you won't get in a situation when you are ready to get an orgasm, and the toy just leaves you with your erection.
Cons
It is bulky a bit. The big size makes it not the best interactive sex device for a journey, and if you have to hide it, you'll need to imagine a fantastic way.
It's not waterproof. You have to take the sleeve out to wash it and have to use something dry or wet towel wipes to wash the other part.
2. Esthesia
This interactive sex toy for women gives maximum stimulation to all-important dots.
Just try it to get a realistic feel.
✅Pros

This device is compatible with the Vibease on the Bluetooth or Wi-Fi connection. You can adjust it by your smartphone or let your partner rule the play from any place in the world. And this app is free;
The material is easy to clean. And the waterproofness makes washing the easiest thing in the world;
This toy is rechargeable, and you get 2 hours of pleasure after 1 hour of charging.

⛔Cons

The handle is made of the silicone too, so if your hands are covered in the lube, pushing the buttons to switch a pattern can turn in a true quest.
It is not compatible with the Windows Phone and Blackberry.
The buttons are made of silicone, and it is not so comfortable to switch the modes.
There are only five patterns of the vibration if you have not got a smartphone compatible with the app.

 
3. Lush 2
This small but powerful vibrator provides incredible feelings.
High-tech interactive sex toy Lush makes your cheeks blush after the hundreds of orgasms.
✅Pros

Lush 2 has a bigger motor than Lush 1 that provides much more vibration and pleasure. Also, the vibration got more powerful;
You get 3 hours of continuous work after one full charge that is enough to use the device until you get your orgasm;
This device is completely waterproof; you can use it in the bath or shower and wash without troubles.

⛔Cons

You don't get enough clitoral stimulation with this device.
The app is not compatible with all smartphones; check this on the cite of the producer.
Women with weak vaginal muscles can get in an uncomfortable situation in a public play.
Some sources prevent us from using Lovense production because they can collect your private data. One review told that some toys even record the sounds.
If the accumulator charges out, the device starts to work very weirdly. One review told how the toy gave maximum power without any reason.

 
4. Max 2
This male masturbator is one of the best interactive toys in the world.
It gives you all in one moment.
✅Pros

The sleeve provides a powerful and comfortable feel during all the play; it's realistic and easy to wash;
There is a vibrator in this device, and it's very powerful. Ordinary producers don't use vibration in men's masturbators, but here you get as much pleasure as women do;

You can pick a vagina-imitating sleeve for the additional payment. The original sleeve has not such a realistic look;
You can rule it by the app, synchronize with other sex-toys from Lovense or VR.

⛔Cons

There are not so many patterns of stimulation.
It's very costly; the price feels too big to even for all the pros.
It is not waterproof at all.
The design is not sexy at all.
You have to masturbate by your hands; it doesn't give you orgasm by itself.
The size is not so universal.

 
5. Womanizer Classic
This is the legend among the women's vibrators.
Unique technology and a great look gave it lots of delights.
✅Pros

This interactive sex device has very comfortable buttons. Even if your fingers are covered in the lube you can use it comfortably;
This sex device has one of the most powerful accumulators. Till 4 hours of the work;
It is one of the quietest toys in the world.

⛔Cons

Magnetic contact pin USB is not so comfortable. It is not universal.
The material of the most part of the toy is ABS plastic; it's not so pleasant.
It is heavy, a bit.
It's bulky.
It is noisy enough.
This toy can be too powerful for sensitive women.
Uncomfortable lying in hand is not such a big con just for the devices with less cost.

 
6. Quickshot Launch Vantage Pack from Fleshlight
One of the greatest interactive sex toys for men are here to give you orgasm.
Fleshlight, the great master of the men's orgasms, made one more great device.
✅Pros

The process is completely automatic; you have not got to do something, just put it on and enjoy;
The Fleshlight sleeves are the best.

⛔Cons

You don't get the sleeve in the pack, only the device. If you are not so attentive, you can get a big fail here.
The device is not waterproof at all.
It is very bulky.
The design is not so sexy.
The charging wire is easy to break.
There are only four patterns for speed and length of the move.
Men with not so good hand muscles will understand that a handjob is much easier.
There is no app or anything for interactive play.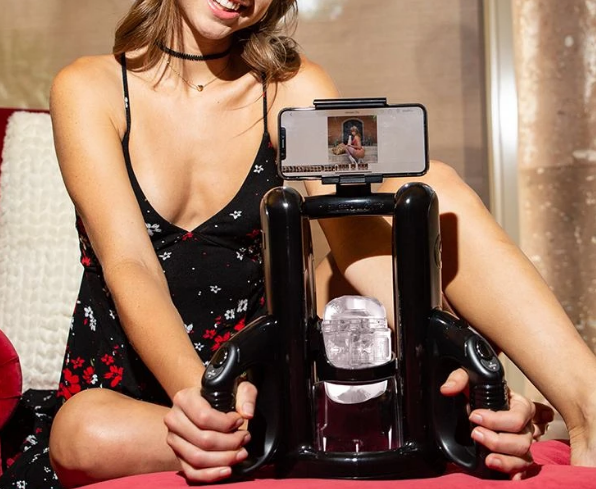 7. Ivy from Svakom
Egg vibrator is one of the most universal and simple choices to satisfy all the wishes.
✅Pros

The remote is very comfortable and looks ordinary enough. So your discreet public play will be truly discreet and safe.

⛔Cons

The vibration could be more powerful.
It is not so good in G-spot stimulation.
The size is not enough for a perfect feeling.
There is no fixation, so it can slip away if you use it in a discreet public play.
The remote provides only 10 meters for control.
There are only three buttons, so the adjusting is not so comfortable.
The buttons are set in the silicone, and it makes the switching without the remote uncomfortable.
It is too light for deep vibration.

 
Now you know everything about interactive sex toys.
This review gives enough information to choose the most pleasant device for you. It is easy to pick one or two for you and your partner.
So what are you waiting for?
What are the best interactive sex toys?
If you're looking for an interactive sex toy that will take your pleasure to the next level, there are a variety of options available. From thrusting masturbators to Bluetooth-enabled toys, there's something for everyone.
The Kiiroo Onyx+ is a powerful interactive masturbator that allows you to control the speed and intensity of the thrusts. It's also compatible with interactive apps and videos, so you can get creative with your pleasure. The Lovense Lush 2 is a Bluetooth-enabled vibrator that allows your partner to control the vibrator from anywhere in the world. It has various speeds and patterns, and can be used with interactive content.
The We-Vibe Sync is a great option for couples. It's a dual-stimulator that can be controlled remotely, and it has 10 different speeds and vibration patterns. It's compatible with interactive content and can be used with a smartphone app.
The OhMiBod Fuse is a great choice for those who want to take their pleasure to the next level. It's a dual-stimulator that comes with a remote control and can be used with interactive content. It also has a variety of speeds and patterns.
The Fleshlight Launch is a great choice for those who want a more realistic experience. It's a connected device that syncs with interactive content, allowing you to control the thrusts with your hand. It's compatible with a range of interactive content and has a variety of speeds and patterns.
These are just a few of the best interactive sex toys available. With so many options to choose from, you're sure to find the perfect toy for you.
What types of interactive sex toys are available?
When it comes to interactive sex toys, there is a wide variety of options available. From high-tech, remote-controlled devices to more traditional vibrators and dildos, users can find something that fits their needs and desires.
For those looking for something high-tech and immersive, there are Bluetooth and WiFi-enabled devices that can be connected to other toys and even smartphone apps. These gadgets come with a variety of features, such as the ability to change settings based on the settings of the other toy, connect to a library of pornography and adjust settings depending on the content, and even show your own arousal and orgasm in real time.
For those that prefer a more traditional approach, there are also vibrators, dildos, and other adult toys that can be used to provide pleasurable stimulation. These toys can range from basic to more sophisticated models, with features such as multiple vibration speeds and patterns, G-spot stimulation, and even remote-controlled capabilities.
No matter what kind of interactive sex toy you're looking for, there's something out there that's sure to please. With the right toy and a little imagination, you can create an exciting and unique experience that you can enjoy alone or with your partner.
How does interactive technology enhance sexual pleasure?
Interactive technology offers a revolutionary way to enhance sexual pleasure by allowing us to experience pleasure in ways that are not possible with traditional sex toys. Through interactive technology, we can control the intensity, speed, and motion of a sex toy remotely or from a distance, thus allowing us to be more creative and explore more possibilities. Furthermore, interactive toys can be connected to libraries of pornography, adjusting their settings depending on the content, and showing our own arousal and orgasm in real time. This new level of interactivity and customization enhances the pleasure of sexual experience, as it allows us to reach levels of pleasure that are not attainable through traditional means.
What are the features of interactive sex toys?
What features are available in interactive sex toys? [Expanded list]: Interactive sex toys offer a variety of features, including Bluetooth connectivity for wireless connection to other devices, apps, and content libraries; app compatibility for long-distance play; motion sensors to simulate what performers are doing in real time; real-time 3D video for immersive content; integrated vibrators; artificial intelligence; touch-sensitive control pads; and swanky materials.
How do interactive sex toys work?
Interactive sex toys are a type of high-tech, smart sex toy that can be remotely or locally controlled and can connect with other sex toys, libraries of pornography, and can show your own arousal and orgasm in real time.
Remote control vibrators, while still being a great option for long-distance couples, work in one direction, meaning only one partner can control the other's vibrator over a wireless Bluetooth connection. To go even further with interactive sex toys, both partners can control the sensation of the other. The speed of one partner's movements dictates the level of contractions and vibrations the other partner feels.
To connect to interactive content, users simply need to follow a few steps. First, they need to find a compatible product from brands like Kiiroo or Fleshlight, and then they need to connect their device to the desired content. Once they have done this, they will be able to access a variety of interactive porn sites and can explore the various features of their interactive sex toy.
What type of virtual reality sex toys are available?
When it comes to virtual reality sex toys, there are a few different options available to those interested in exploring an immersive and interactive sexual experience. For men, there are penis strokers or vibration devices that sync up with VR porn. For women, there are rabbit vibrators that also work with VR content. For couples, products like the Kiiroo KEON, Lovense Max 2 and the Fleshlight Universal Launch offer interactive experiences that can be synced up with porn or erotica. As for headsets, the most popular brands are the Meta Oculus and the HTC Vive, or the more affordable PSVR.
When it comes to features, all VR sex toys work roughly the same in that they feature an enclosure for insertion that can vibrate or move to simulate the feeling of sex or oral sex. Most also feature motors and mechanical parts that can be a bit loud. But the real appeal of VR sex toys is the ability to connect them to a computer, phone or VR device to synchronize the pleasure with something else over the internet or with a partner. There are also high-tech blowjob machines that offer a similar experience without the video or virtual connectivity.
Overall, the cost of virtual reality sex toys has decreased significantly, making this type of experience more accessible and affordable to everyone. With the right device, users can now experience a whole new level of immersive pleasure unlike anything else.
What types of materials are used in interactive sex toys?
Interactive sex toys are typically made of a variety of materials. The most popular materials used in these types of toys are silicone, glass, ABS plastic, and jelly.
Silicone is the most common material used in modern sexual devices. It is body-safe, non-reactive, and can easily and pleasurably be warmed up. It is best to use water-based lubricants with silicone sex toys for optimal use.
Glass is a super solid and bacterial-resistant material, making it a great choice for those who like intense sensations or are particularly concerned about infection.
ABS plastic is the material which is mostly part of, but not entirely what sex toys are made of.
Jelly toys are also available, but it is important to be careful when buying them as they often contain latex, which can cause severe allergic reactions.
How much do interactive sex toys cost?
Interactive sex toys can range in cost from as low as $40 for the Satisfyer Curvy 3, up to $10,900 for the Kiiroo B.V. Titan. When selecting the best interactive sex toy for you, it is important to consider what features you need and how much you are willing to spend. For example, the OhMiBod Fuse retails for $149 and features adjustable speeds, patterns, and intensities, while the We-Vibe Chorus retails for $199 and includes Bluetooth control and a chat function. For the most affordable interactive sex toy, the Satisfyer Curvy 3 is the clear winner at $40. Meanwhile, the LOVENSE Ferri retails for $119 and offers strong vibrations and ergonomic design, while the We-Vibe Moxie retails for $129 and includes powerful vibrations and a discreet design. Finally, the Kiiroo B.V. Titan is the most expensive interactive sex toy at $10,900 and includes remote control, adjustable speeds, and a chat function.
What are the benefits of using interactive sex toys?
The benefits of using interactive sex toys are vast and varied. Interactive sex toys give users access to a wide range of virtual experiences, allowing them to explore and enjoy their sexuality in ways that would have been impossible just a few years ago. They can also be used to improve long-distance relationships, as many of these toys are designed to allow couples to connect and control each other's experience from a distance.
Some of the many advantages of interactive sex toys include:
Increased pleasure through virtual experiences
Real-time, interactive possibilities
Ability to sync with music and other toys
Medical-grade materials for better safety and comfort
Discreet options for those who want privacy
Ability to connect with long-distance partners
Access to a variety of interactive content
Ability to explore and enhance your sex life in new ways