Is there anyone who has never masturbated or at least thought about it?
Well, nowadays, erotic dreams easily come true, and there is no need to behave like a priest.
Sex toy manufacturers offer a vast range of male and girl toys. Hands – free models are the most realistic. Imagine your girlfriend is far away, and you are missing her. Your hand is tired of trying to "replace" her. That's the situation when a male vibrator is necessary. We introduce a review of 5 best hands – free toys for men.
Male sex toys that leave hands - free can make your masturbation experience unforgettable
Start with simple and cheap toys like Pocket Pulse, and then move towards advanced versions
You will unlock all the features of modern male sex toys, and won't be left disappointed or indifferent
1. Autoblow AI
This masturbator is literally an icon of power. Just have a look at its big robotic-like body and imagine how it can stimulate you.
Unlike simple automatic male masturbator, this one knows how to make you know.
#
Top Hands Free Masturbators
Benefits
1

Autoblow A.I.


incredible






CHECK CURRENT PRICE

Autoblow AI uses a heavy and powerful electric motor, so the vibrations are really intense
Comparing to a previous masturbator, Autoblow 2, this one is three times more powerful
Autoblow AI is 50% quieter than previous models

2

Lelo F1s


fantasy






CHECK CURRENT PRICE

F1s male masturbator allows you to work with its software to achieve the best masturbation pleasure
The strong battery guarantees 2 hours of intense stimulation
F1s vibrator is 100% waterproof

3

HotOctopuss Pocket Pulse


unique






CHECK CURRENT PRICE

The total dimensions are 2.9 x 2.9 x 2.3 inches
The male masturbator is as discreet as possible: Noize level is just 50 dB
The well-designed body allows applying Pocket Pulse both to limp and erected willies

4

Lovense Max 2


interactive






CHECK CURRENT PRICE

There's an air pump that makes masturbation more realistic, and you can control it using a switch
Max 2 can be synchronized with other sex toys
This model is designed to be suitable for all dicks. According to the official data by Lovense, 95% of men can use Max 2

5

Fleshlight Quickshot Launch Riley Reid Pack


gentle






CHECK CURRENT PRICE

On the package, there is no mention of who should receive it, so don't worry about secrecy
In the Pack, you receive a Compact Clear case and two sleeves with sleeve caps for storage
8oz of lubricant water that goes with the Pack will make your masturbation easier and softer
The AI system regulates intensity and stimulation patterns to achieve the best result. A perfect choice for those who like realism. It's definitely No 1 in our review.
What makes it so desirable?
You don't have to worry about changing batteries — Autoblow AI is a masturbator that works from electric outlets.
No efforts are needed — just put your willie in it and switch the hands free masturbator on.
The sleeves are changeable, 100% silicone, and free of dangerous components. Make your masturbation healthier with Autoblow AI male masturbator.
A dozen of stimulation modes lets you find the best pattern.
Unlike class male toys, Autoblow AI massages your dick in different directions. That's because of the developed design and advanced motor and sleeve system. Orgasms can be more passionate and intense.
You can take the sleeves our of the male toy and clean them carefully. Hygiene is above all.
It is unusual. Try to find a male masturbator that has the same design — we bet you will fail.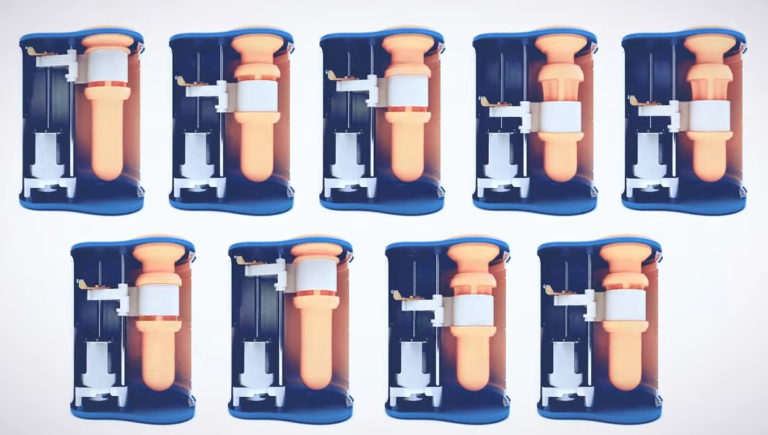 Several cons
Not a single male masturbator is ideal. Autoblow AI isn't an exception:
High technologies are never cheap. A smart male vibrator won't cost you an arm and a leg, but it is still an elite pleasure.
Autoblow AI is pretty big and heavy due to its non-traditional design. You'll have to get used to feeling it on your penis.
Customers' opinion
Buyers' opinions can be summarized in just one sentence, "I bought Autoblow AI, and now my hands have no purpose."
Of course, customers also mention the drawbacks that we stated above.
2. F1s Developer's Kit Red by LELO
Innovative, stylish, and compact — F1s won't leave indifferent men who care about appearance.
The unique feature of this male masturbator is SDK availability. If you know how to deal with code, you can use the Developer's Kit and adjust F1s in many ways.
The mobile app compatible with Android and iOS makes use more convenient.
✅Pros

Curved internal grooves are designed for daring you the most realistic feeling.
There's a window panel for those who prefer watching masturbation.
A premium quality aluminum textured body is light and stylish. This hands – free masturbator will be a nice bedroom decoration!
The sleeve is made of materials free of dangerous elements. It is very ergonomic and skin-friendly.
Sonic wave technology is designed to make your perception of stimulation more sensible. Ten cutting edge sensors help F1s to do its job better.
Together with the male masturbator, you get sext gloves, a starter guide, and a satin storage bag.

⛔Cons

It is pretty expensive.
It isn't the quietest male masturbator.

 
3. Pocket Pulse Compact from Hot Octopus
The size does matter, and it makes sense, not only with penis size. The male audience typically wants a masturbator to be small and discreet.
British sex toys manufacturer Hot Octopus understands it.
Pocket Pulse is an excellent example of a compact sex toy that you can easily hide at home.
✅Pros

Two small but powerful stimulate all the lengths of your willie.
Pocket Pulse male vibrator uses the advanced vibration plate patented by the manufacturer.
There are five-speed patterns that let you choose the appropriate stimulation pattern.
This compact male vibrator is totally waterproof, so you may enjoy it in any tub.
Small size and discreet shipping make Posket Pulse the best male vibrator for those who have to hide their erotic fetishes.

⛔Cons

The battery is relatively weak. It takes up to 3 hours to charge it, and the hands – free masturbator can work for only 1 hour.
Such a small device would be better if it had a remote control option.
Adjustability is worse than on other hands – free vibrators.

 
4. Max 2 from Lovense
Hong Kong sex toy manufacturer Lovense was founded in 2009. Since then, their kinky toys have been conquering the market.
Max 2 is a multifunctional masturbator that corrects the mistakes of the previous models. This toy is suitable both for sex toy beginners and advanced users.
✅Pros

Max 2 uses a rechargeable accumulator.
The sleeve is removable and very easy to clean.
Three modes of tightness and seven vibration intensity patterns allow adjusting Max 2 as you wish.
When you buy Max 2, you get two sleeves for it. One of them is super realistic, having a textured canal and a molded orifice.
Why not using a male masturbator in foreplay or a BDSM session? The remote control option makes Max 2 suitable for it.
Max 2 massages your willie all around, leaving no spots to be untouched.

⛔Cons

Max 2 can't be used in a bathroom.
The accumulator is not so strong.
The price is still high.

 
5. Quickshot Launch Riley Reid Pack
Did anybody say "realistic"? Fleshlight International developed a male masturbator promoted by a famous pornstar.
American adult films actress Reily Reid agreed to be a prototype for the most authentic male sex toys ever.
Quick Shot Launch Riley Raid Pack imitates the texture of her vagina, including features of her labia. Thougt it is on the kast place in our review, it is definitely not the last sex toy to be considered.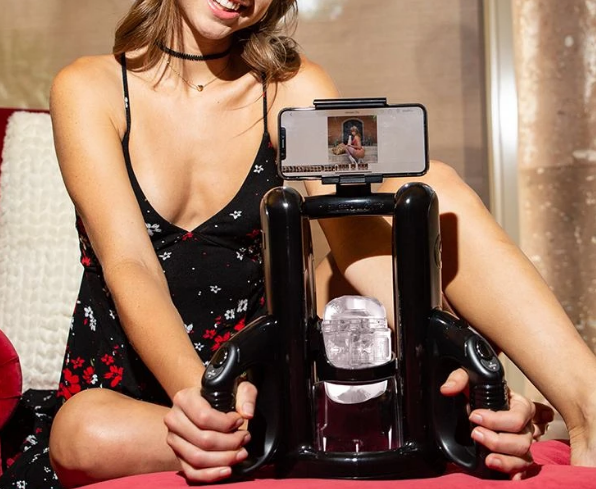 ✅Pros

The feelings when you touch the toy are absolutely the same as if you touched Riley Reid's labia. Modern technologies allowed us to achieve an unprecedented level of realism.
This toy can imitate both vaginal and anal penetration, so you won't get bored playing with it.
The intense stimulation is guaranteed by numerous soft ribs inside the sleeve. The ribs are placed in two "pleasure pockets". At the very end of the toy, there is an air pump section, which makes stimulation more sensual.
Quick Shot Launch Riley Raid is tight enough to deal even with the smallest willies. The size is not an obstacle for pleasure!
The hands – free masturbator is totally waterproof. Don't hesitate trying it in your tub!

⛔Cons

What is the most desirable function if you have a hands – free male masturbator imitating a porno actress' labia? Of course, interactiveness! Unfortunately, this model doesn't have it.
It's challenging to clean the sleeve because of its complicated inner structure with numerous ribs.
The stimulation may seem excessive for some users.
The realistic male vibrator is expensive.

 
Frequently Asked Questions
Nowadays, sex toys are very popular, but few people know how to deal with them properly. We compiled several typical questions about hands – free male toys and vibrators in general.
Is there any point to buy branded ses toys if there are cheap male masturbators?
Basically, the difference is no so significant. If you get an expensive hands – free masturbator, it is always body-safe, and you normally get a long warranty.
A modern cheap model is also skin-safe, but the quality is worse, and the sleeve may tear.
Why should I clean the male masturbator after each use?
Lubes, sperm, and sweat rapidly make your sex toy dirty. Inside the sleeve, there are numerous ribs and "fangs." Bacteria stuck in these places. In case you masturbate too passionate, you may get hurt, and these bacteria will hurt you.
That's why it is essential to use sex toys cleaner. Ethanol or vodka can easily damage the silicone.
Is it true that silicone sleeves of male sex toys can be damaged on planes because of frost?
Normally, there is a normal temperature in the plane cargo rooms (68 F degrees). It means nothing at all will happen to your male toys.